---
join del norte's award-winning color guard! ★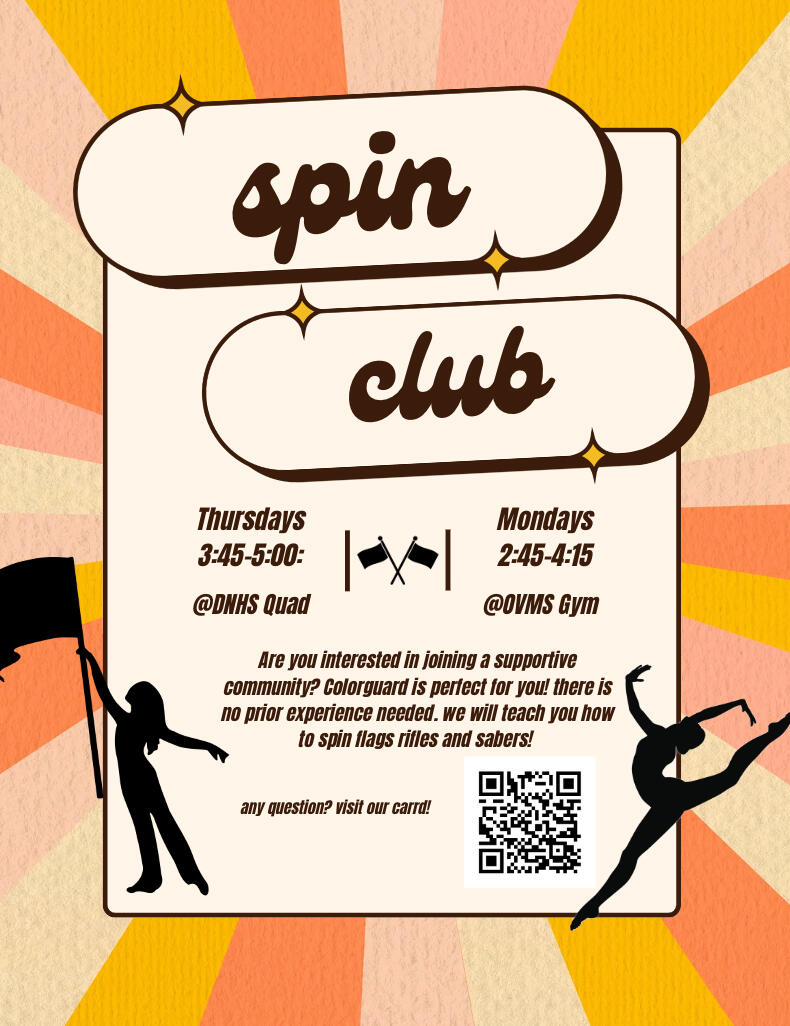 tryouts: May 18 and May 19 from 3:45-5 in the DNHS music building (M101 - next to the Performing Arts Center)! fill out our interest form (linked down below) if interested!questions? contact Dr. Kitelinger at [email protected] or Melissa Barton (coach) at [email protected]!
---
★ information and performances! ★
★ frequently asked questions!
what is color guard?
color guard is a performing art/dancesport in which performers dance and spin with a flag, rifle, and/or sabre.what does a year in color guard entail?
our color guard participates in three seasons throughout the school year: field season in the fall, winter guard in the winter, and solo/ensemble season in the spring. during field season (trimester 1), the color guard performs with the marching band on the football field. we perform in parades, football games, and tournaments in which we compete against other schools' bands and guards. winter guard (trimester 2) allows the guard to perform as a separate unit from the band, performing in an indoor gym against other color guards. lastly, solo/ensemble season (trimester 3) allows the team to choreograph their solo and small group routines. once finished, the color guard competes against each other and allows the team to conclude the year and everything they've learned in a fun way!color guard also gets to participate in other performances at Disneyland, in Padres games, and in other cities along the West Coast!can you join color guard if you have no dancing or spinning experience?
of course! anyone can join color guard, no matter their experience level. our team's primary purpose is to be inclusive and accepting to all, as we are meant to uplift each other and help each other grow as a team and as individuals.what days are performances usually on?
within our fall season, we perform in Friday night football games (home games) and Saturday tournaments. the winter season is similar in the schedule as most competitions will fall on Saturdays and/or Sundays. seasonal concerts are also held on Fridays typically, whereas parades are usually on Saturdays.when does color guard practice?
color guard practices both during the school day and after school. color guard practices every day during 1st period in the classes Marching PE Tall Flags 1 and Dance Props 1-2. our night rehearsals are on Mondays from 6-9 PM, and Thursdays from 3:45-5:15 PM.can you join color guard even if you want to take AP classes, participate in other sports, join school clubs, and/or be in other extracurriculars?
yes! color guard is easy to balance with other classes and activities. while we are often flexible, you must let Dr. Kitelinger and Mrs. Barton know in lengthy advance if you are missing any events listed on the calendar. if you wish to participate, it is important that you manage your time well. it is your responsibility to allocate time in your personal schedule for individual practices and team rehearsals/performances.